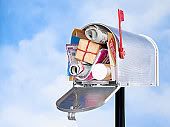 Mailbox Monday, created by Marcia, is on a blog tour! This month's host is  4 the LOVE of BOOKS.
 Plain Jane by Laurien Gardner (bookmooch)
With a plain face, Jane Seymour has no suitors and few hopes. Then she is granted a position at court as maid of honor to Queen Catherine. There, Henry VIII ignores his aging wife, showering favor on the dark beauty Anne Boleyn, soon to be his new queen. But he tires of stubborn Anne, and his wandering eye falls on plain Jane. Although she cares for Henry, she must not let herself be swept away by his attentions. For she intends to win not only his heart but also the greatest prize of all–the crown.

Ranulf de Blondeville: The First English Hero by Ian Soden (bought)
A full, lavishly illustrated study of a nobleman whose exploits became the stuff of medieval romance, once recounted in the same breath as Robin Hood. Ranulf de Blondeville was fabulously rich and powerful. He served six kings, endured difficult regime-change, fought his way across half of France and back and more than once turned wrested victory from defeat. He never forgot that his roots were Norman although his efforts were for England, where he made his home. Loyal to a fault, as a youth he was disastrously married to the Duchess of Brittany, firebrand of contemporary politics, who tried to destroy him. His second wife brought happiness but not children.
He was a fiercely independent spirit with a renowned temper. Unafraid of anyone, he besieged castles aggressively, constructed and defended them stoutly and built an Earldom of unparalleled power at England's heart. Kings lavished titles on him and the Pope sought out his support, noting his exceptional leadership.
On his deathbed he bequeathed to Henry III the only piece of Normandy ever recovered from the French. It was rumored that when he died the devil himself kicked him out of hell, he was so much trouble.
Pharaoh Triumphant. the Life and Times of Ramesses II by K.A. Kitchen (bought)
To the modern world, Ramesses II is the pharaoh who perhaps best represents the grandeur of ancient Egypt. During his sixty-seven-year reign in the thirteenth century B.C., a vast number of spectacular building projects were undertaken, culminating in the famous temples of Abu Simbel.
Chronicling this remarkable king and his family, Pharaoh Triumphant surveys Ramesses' childhood and early military career as a general under his father, Sethos I, and looks at the long reign of Ramesses himself, at war and in peace.
Beyond royal court, the book also examines the world of New Kingdom Egypt – government, politics, religion and funerary rites, and daily life in the town and country.
Crown Of Roses by Valerie Anand (bought)
The tumultuous years leading to the reign of Richard III and, on his death, the ascension to the English throne of the first Tudor Henry are conveyed with authoritative detail in this engrossing historical novel. Edward IV is shakily enthroned and England is torn in the York-Lancaster civil strife, when, at age 14, Petronel is unable to produce the male heir which would be her only value to Lionel, who will follow his king to Bosworth field.