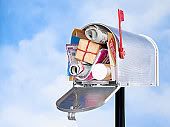 Mailbox Monday, created by Marcia, is on a blog tour! This month's host is A Sea of Books.
Richard III: The Maligned King by Annette Carson (from bookmooch)
For centuries the vision of Richard III has been dominated by the fictional creations of Thomas More and Shakespeare. Voices have protested during the intervening years, some of them eminent and scholarly, urging a more reasoned view to replace the traditional black portrait. But historians, whether as authors or presenters of popular TV history, still trot out the old pronouncements about ruthless ambition, usurpation and murder. In Richard III: The Maligned King,Annette Carson seeks to redress the balance by examining the events of his reign as they actually happened, based on reports in the original sources. Eschewing the overlay of assumptions so beloved by historians – about character, motivation and hidden intentions – instead she traces actions and activities of the principal characters, using facts and time-lines revealed in documentary evidence. Daring to investigate areas where historians fear to tread, this book raises some controversial questions. Was Edward IV assassinated? Did Queen Elizabeth Woodville engage in witchcraft? Why did Thomas More lay down his pen, leaving his dramatic attack on Richard unfinished?
My Heart Is My Own: The Life of Mary Queen of Scots by John Guy (from bookmooch)
She was crowned Queen of Scotland at nine months of age, and Queen of France at sixteen years; at eighteen she ascended the throne that was her birthright and began ruling one of the most fractious courts in Europe, riven by religious conflict and personal lust for power. She rode out at the head of an army in both victory and defeat; saw her second husband assassinated, and married his murderer. At twenty-five she entered captivity at the hands of her rival queen, from which only death would release her.
The life of Mary Stuart is one of unparalleled drama and conflict. From the labyrinthine plots laid by the Scottish lords to wrest power for themselves, to the efforts made by Elizabeth's ministers to invalidate Mary's legitimate claim to the English throne, John Guy returns to the archives to explode the myths and correct the inaccuracies that surround this most fascinating monarch. He also explains a central mystery: why Mary would have consented to marry – only three months after the death of her second husband, Lord Darnley – the man who was said to be his killer, the Earl of Bothwell. And, more astonishingly, he solves, through careful re-examination of the Casket Letters, the secret behind Darnley's spectacular assassination at Kirk o'Field. With great pathos, Guy illuminates how the imprisoned Mary's despair led to a reckless plot against Elizabeth – and thus to her own execution.
The portrait that emerges is not of a political pawn or a manipulative siren, but of a shrewd and charismatic young ruler who relished power and, for a time, managed to hold together a fatally unstable country.
Dragon Lady: The Life and Legend of the Last Empress of China by Sterling Seagrav
The author of The Soong Dynasty gives us our most vivid and reliable biography yet of the Dowager Empress Tzu Hsi, remembered through the exaggeration and falsehood of legend as the ruthless Manchu concubine who seduced and murdered her way to the Chinese throne in 1861.