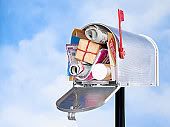 Mailbox Monday, created by Marcia, is on a blog tour! This month's host is chaotic compendiums.
Poisoned Legacy: The Decline and Fall of the Nineteenth Egyptian Dynasty by Aidan Dodson (bought)
After the death of RamesesII, the Nineteenth Dynasty, soon fell into decline and familial conflict, culminating in a final civil war that ended with the accession of a new dynasty. Sethy I and Rameses II's promotion of a concept of a wider 'royal family' may have sown the seeds for the conflicts among their descendants.
Aidan Dodson explores the mysteries of the origins of the usurper-king Amenmeses and the career of the 'king-maker' of the period, the chancellor Bay. Having helped to install at least one pharaoh on the throne, Bay's life was ended by his abrupt execution, ordered by the woman with whom he had shared the regency of Egypt for the young and disabled King Siptah. Finally, the author considers how that woman-Tawosret-became the last true female pharaoh, and how she finally lost her throne to the founder of the Twentieth Dynasty, Sethnakhte.
A Triumph Of Roses by Mary Pershall (bookmooch)
ELEANOR PLANTAGENET …
The raven-haired princess of the roses, betrothed as a child, betrayed as a woman — an innocent flower waiting to be plucked by the stranger she must call her lord … her master … her husband.
WILLIAM FITZWILLIAM MARSHAL …
The powerful Earl of Pembroke, his castle was a possession defended by his mighty sword; his bride was a royal prize granted by his king …
THEIR DESTINY WAS DESIRE …
His passion demanded her surrender. Her pride refused to yield even as her body submitted to a traitorous pleasure in his arms. Theirs was a fierce battle of hearts, where looks could wound, where words could kill, where wanton desire drove her into raptures flames … but kindled a war that could destroy all they cherished — or inspire the triumph of glorious love eternal …